Multistage cycling road tour along the Apennines between Tuscany and Emilia Romagna.

25/28 June 2020
The challenge


Prova ciclistica di 4 tappe sulle strade appenniniche tra la Toscana e l'Emilia Romagna

Quattro tappe in quattro giorni, in un evento"prestige" lungo le strade secondarie più affascinanti dell'Appennino tosco-romagnolo: la Palazzuolo Challenge ti invita a scoprirle vivendo una esperienza di puro ciclismo.

I quasi 350km del challenge si snodano tra i mutevoli panorami del Mugello, del Casentino e delle valli del Senio e del Santerno. Insidiose salite si danno il cambio con adrenaliniche discese, in un mix pensato per mettere a dur prova i tuoi limiti sici e mentali. Perché la forza pura non basta, ci vogliono concentrazione, determinazione e coraggio.
E non è per tutti, solo un esclusivo gruppo di 40 ciclisti avrá la possibilitá di partecipare.
Accetti la sfida?

Multi-stage cycling road tour along the Apennines between Tuscany and Emilia Romagna

Four stages in four days, in a prestige event along the most challenging secondary roads of the Tuscan-Romagna Apennines: the Palazzuolo Challenge lets you discover this stunning backdrop via an experience of pure cycling.

The almost 350km of the challenge meander through the changing views of the Mugello, the Casentino and the valleys of the Senio and Santerno. Arduous climbs are recompensed with adrenaline descents, a route designed to really put your physical and mental limits to the test. Because mere strength is not enough, it takes concentration, determination and courage. And it's not for everyone: only a select group of 40 riders can participate. Are you up for the challenge?
Stage 1
91km / 1930mt+
Gullies, olives oil, lavender and medieval villages
A stage between the Senio to the Sintria valley, short and steep stretches on narrow roads...
See more
Stage 2
89km / 2370mt+
Hermitages, sacred florests and poetry
An entire stage into the magical florests of the Casentino...
See more
Stage 3
118km / 2470mt+
"Pietra Serena", Mille Miglia and a war cemetery

Probably the queen stage of the challenge, that won't let you sleep the night before...
See moreStage 4
45km / 1150mt+
"Cima Coppi" at Passo Sambuca

The 4th stage will take place exclusively in the Tuscan territory, 42 km left at the end of the challenge...
See more
Rules

Ciascuna delle 4 prove avrà il suo vincitore morale. Sará premiata la tenacia e la maniera in cui sarà interpretato il percorso, per una sfida contro se stessi che si rinnoverá ogni giorno.

Durante la prova non potrai ricevere aiuti tecnici esterni, ma ci sarà un carro-scopa per eventuali necessità.
Se per problemi meccanici non arrivi al termine di una tappa, o ti ritiri, potrai comunque partecipare alle tappe rimanenti.

La Palazzuolo Challenge è una manifestazione indipendente, non agonistica pagata dai partecipanti e organizzata con il sostegno degl enti locali per la promozione del territorio e dei suoi prodotti.
I partecipanti riceveranno omaggi esclusivi realizzati da artisti, artigiani e produttori locali; non è previsto alcun premio in denaro.

Each stage will have its moral winner; it will be rewarded the tenacity and the attitude of the rider, for a fresh competition against itself every day.

During the challenge no external technical assistance is permitted, but a broom wagon will be on hand to assist for any need. If due to mechanical problems you do not reach the end of a stage, or you withdraw, you can still participate in the remaining stages.

The Palazzuolo Challenge is an independent event, paid for by the participants and organized with the support of local authorities to promote the territory and local products.
The participants will receive exclusive gifts made by local artists, artisans and producers; there is no cash prize.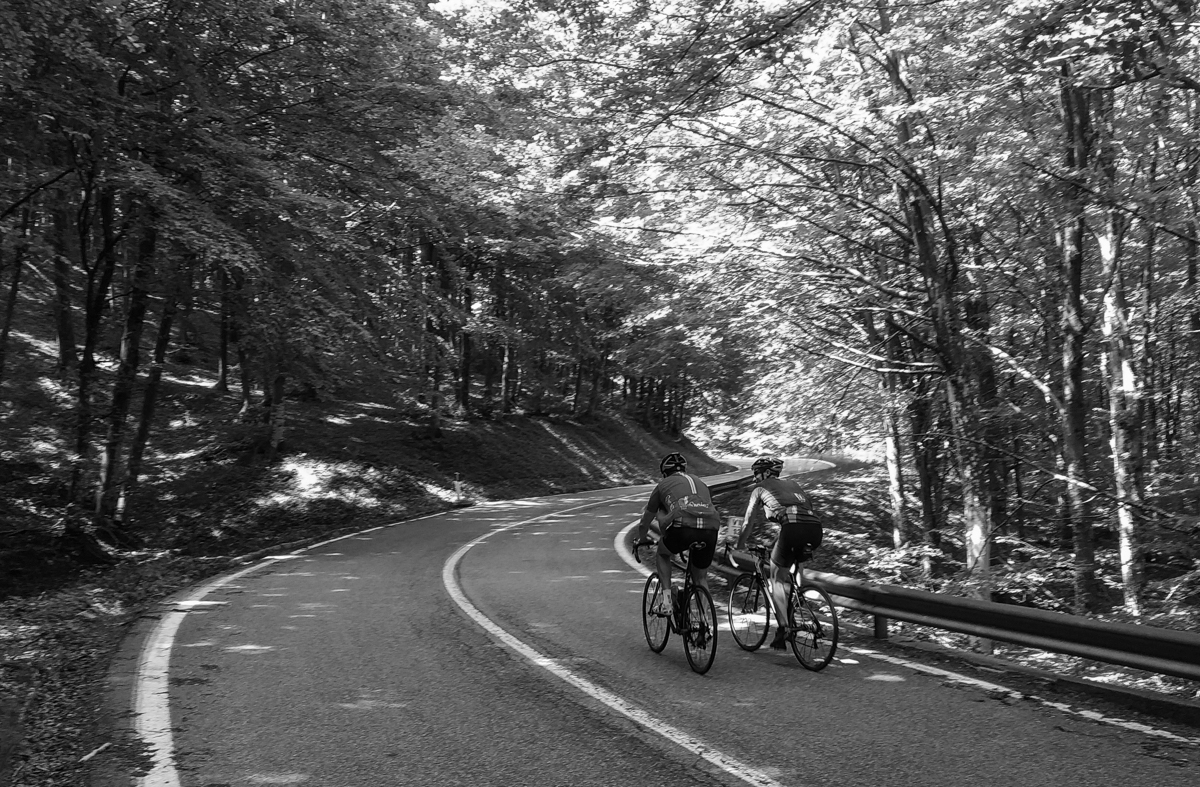 Tra la Toscana e la Romagna, il Mugello è terra di sognatori e avventurieri. Ed è proprio il senso dell'avventura che anima la sfida, insieme al gusto di godersi la fine di ogni tappa tra proposte gastronomiche e di relax, all'insegna del cameratismo e dello spirito sportivo.

Alloggerai nel cuore del Mugello, a Palazzuolo sul Senio: nominato uno dei "Borghi più belli d'Italia", offre opportunità di svago anche per i tuoi eventuali accompagnatori, tra percorsi di trekking, escursioni e musei. Oppure, dopo le fatiche della sfida, potrai rilassarti in una piscina all'aperto o tuffarti dalle cascate del fiume Senio.

Between Tuscany and Romagna, Mugello is a land of dreamers and adventurers. And it is precisely this sense of adventure that underpins the spirit of the challenge, together with the pleasure of finishing each stage by enjoying various gastronomic and relaxing proposals, under the banner of camaraderie and sporting spirit.

You will stay in the heart of Mugello, in Palazzuolo sul Senio: named one of the "most beautiful villages in Italy". It offers leisure opportunities for you to enjoy with fellow participants, including trekking routes, excursions and museums. Or, after the fatigue of the challenge, you can relax in an outdoor pool or dive from the rocks of the Senio river.
Il prossimo
Palazzuolo Challenge
sará disputato dal
25 al 28 giugno 2020
Se vuoi far parte di questa esperienza,
inviaci
la tua richiesta di partecipazione.
Incluso nella quota di partecipazione:
Pernottamento (4 notti)
Colazione per i quattro giorni della prova (con pranzo conclusivo molto speciale)

Assaggi di prodotti tipici al termine di ogni tappa
Un regalo speciale ed unico
Ingresso alla piscina
Assicurazione RC
Immagini scattate da un fotografo professionista
Una esperienza indimenticabile di fatica, gioia, superazione e cameratismo. Sará dura, ma bellissima!
The next Palazzuolo Challenge will be held from the
25th to the 28th of June 2020


If you wish to be part of the challenge, please email us your application.


What's included in the entry fee:
Four days accommodation (3/4 nights)
Breakfast each day and farewell lunch
Tastings of typical products at the end of each day's stage
Some very special gifts and unique memorabilia.
Entrance to the swimming pool
RC insurance
Photos taken by a professional photographer
An unforgettable experience of pain, pleasure, achievement and camaraderie. It will be hard, but beautiful!
Registration

Data evento e luogo di partenza

25-28 Giugno 2020, Palazzuolo sul Senio

Apertura iscrizioni

9 Gennaio, 2020, 9:00 am

Chiusura iscrizioni
10 Giugno, 2020

Costo iscrizione
• 9 Gennaio - 12 Aprile
290€ con pernottamento*
150€ senza pernottamento
• 13 Aprile - 10 Giugno
330€ con pernottamento*
190€ senza pernottamento

L' iscrizione include
• Pernottamento per 4 notti in camera doppia*
• Colazione per i 4 giorni e pranzo coclusivo
• Assaggi di prodotti tipici al termine di ogni tappa
• Traccia del percorso in formato .gpx
• Un regalo speciale ed unico
• Ingresso alla piscina
• Assicurazione RC
• Immagini scattate da un fotografo professionista
L'iscrizione non include tutto quello che non è espressamente indicato nella lista "l'iscrizione include".
Pagamento**

Per partecipare al Palazzuolo Challenge vi preghiamo gentilmente di pagare l'intero importo tramite bonifico bancario a:
ASD Senio Bike
IBAN IT80H0846267520000005013893
Se preferite pagare usando Paypal fate click
qui
e seguite le istruzioni.
Una volta effettuato il pagamento vi preghiamo di inviarci la ricevuta e vi contatteremo per inviarvi la scheda di registrazione.
**La quota di iscrizione non è rimborsabile. Nel caso in cui non dovessimo raggiungere il numero minimo di 25 partecipanti, saremo costretti ad annullare l'evento e rimborsare tutti i pagamenti.
Ricorda che devi avere almeno 18 anni e inserire la certificazione medica attitudinale per la pratica ciclistica, valida alla data dell'evento.
Event date and departure place
25-28 June 2020, Palazzuolo sul Senio


Registration opens
January 9th, 2020 at 9:00 am


Registration close
June 10th, 2020


Registration fee
• January 9 - April 12
290€ with accommodation*
150€ without accommodation


• April 13 - June 10
330€ with accommodation*
190€ without accommodation


Subscription includes
• Four nights accommodation in double bedroom*
• Breakfast each day and farewell lunch
• Tastings of typical products at the end of each day's stage
• Full track of the route in .gpx format
• Some very special gifts and unique memorabilia
• Entrance to the swimming pool
• RC insurance
• Photos taken by a professional photographer


Subscription does not include everything that is not indicated in the list of subscription.

Payment**
In order to be part of Palazzuolo Challenge we kindly ask you to pay the whole amount through bank transfer at the following bank account:
ASD Senio Bike
IBAN IT80H0846267520000005013893
If you wish to pay via PayPal please click on this link and follow the instructions.
Once you send us the bank receipt we will contact you to fill the subscription form.


**Please note that the payment is not refundable. In case we don't reach the minimum amount of 25 participants we will be forced to cancel the event and refund all the payments.
Remember that you must be 18+ and enter the attitudinal medical certification for the cycling practice, valid at the date of the event.
About us

Siamo un gruppo di amici e ciclisti innamorati della natura e dell'avventura.
Amiamo e conosciamo a fondo il nostro territorio e organizziamo questo evento per dare l'opportunitá ad altri come noi di scoprirlo. Il Palazzuolo Challenge infatti non é solo una competizione, ma sopratutto una esperienza per condividere le nostre passioni.
We are a group of friends, cyclists in love with nature and adventure. We know and deeply love the most beautiful places of our territories and we realize this initiative to give the opportunity to discover them to other enthusiasts like us. The Palazzuolo Challenge in fact does not want to be just a competition, but above all an experience of sharing our common passions.

Contact

---